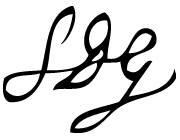 To God Alone be the Glory.
All of our life needs to be under the Lordship of Jesus Christ, our only hope and salvation. Our life is not for our glory, or the glory of some church, denomination, or human leader. All we do, from the ordinary to the extraordinary needs to be for Christ's glory. Even our past and future mistakes will be used for good if we remain in Christ as Paul says in Romans 8:28
Johann Sebastian Bach and George Frideric Handel added the initials "SDG" to many of their works. It is part of the Five Solas described in the Protestant Reformation.  While I am Protestant, please understand I welcome, respect and Love my Catholic brothers and sisters in Christ, especially their stand for marriage and family.  Being saved is not what particular Christian church you go to, but it is accepting the free gift of forgiveness and eternal life to serve One Christ. We are committed together in standing for marriage as Christ intended it!